Unless you are good with design and decoration, it is usually better to pay someone professional to make the layout and design for you. However, sometimes we don't have the luxury nor the time to hire an interior designer, so here are a few simple tips that will help you design your home office to your own liking.
You Have Total Freedom
Remember, unless you are bringing in clients to your home office, it does not necessarily have to adhere to world standards and best practices. Some people have certain quirks and preferences that some people would not necessarily find pretty or aesthetic.
You have the freedom to choose the general layout and look of your home office to fit your general interests. If you are a star wars nerd or star trek geek, don't be ashamed. The best workspaces are ones that make you feel like you are not really doing "work". The best workspaces should make you feel like you are in a different world and a universe. You have the freedom to design it to your liking.
Look Up Inspiration
It's always a good idea to look at some inspiration and good design that other people might have. You can borrow some elements from their design and incorporate into yours. Things won't translate 100% into reality, so you have to be able to make small adjustments here and there.
Pinterest is a really good start if you want to look up some ideas and inspiration.
Or head over to our Home Office Decor Ideas section of your website.
Imagination is very crucial, so in a way, you have to able to imagine certain furniture and colors as if it were right in front of you. If you are having a hard time imagining it in your head, try taking a picture and placing it where you plan to place it.
Make A Sketch
You don't want to burn through your money and make the wrong decision. Don't overthink your choices, but also, don't be careless.
Making a sketch and at least having a rough idea will save you time, money and heartache. You don't have to go full Picasso mode, but something like the picture below will work just fine when you need to get a rough idea of what you are trying to do.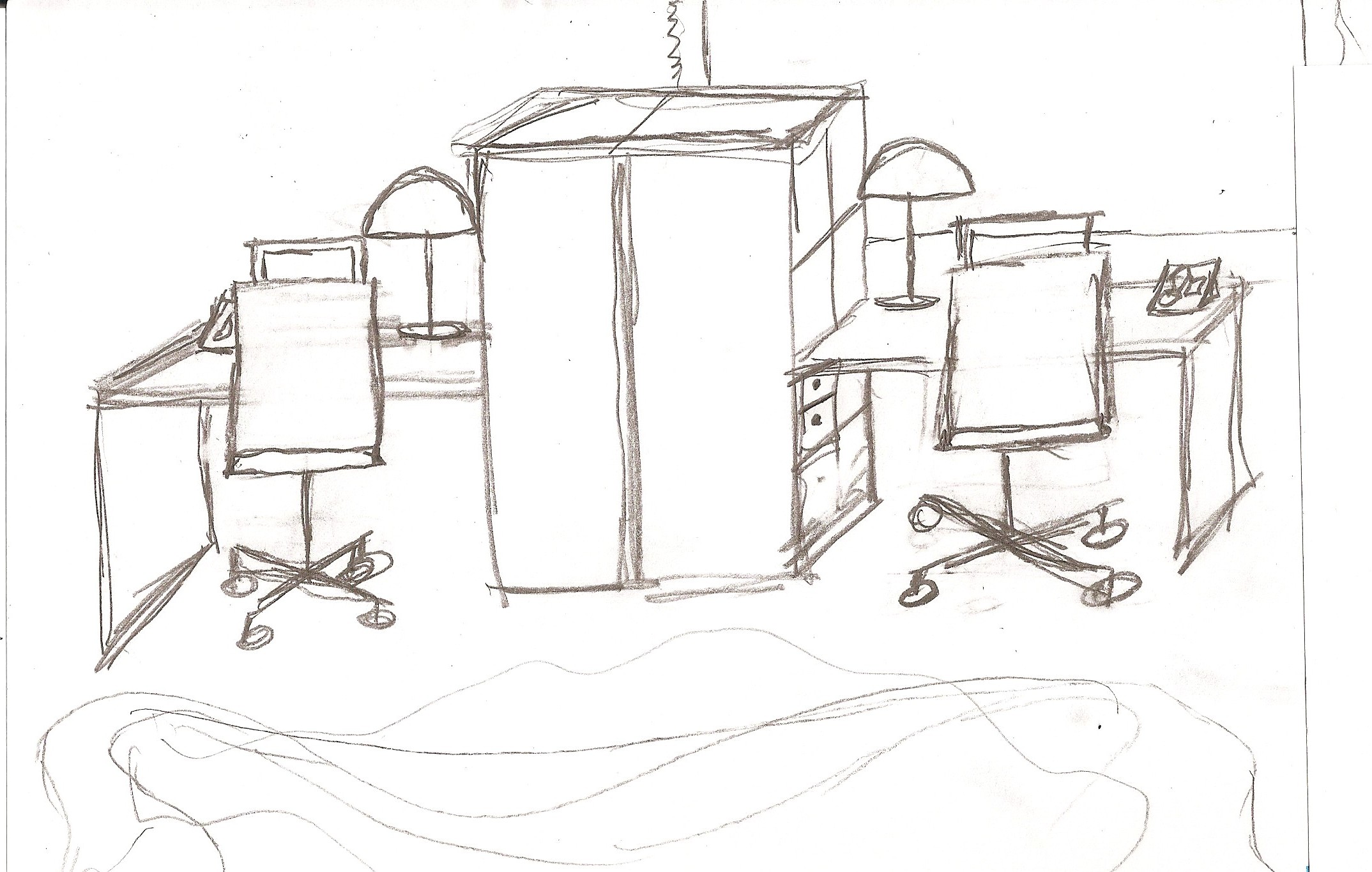 Start With The Essentials
Before you get into the nitty-gritty details, you always need the proper foundation. Start with the ceiling, wall, and floor. Once you establish a general theme or color scheme, you will have a better idea of what kind of chair, table, and furniture will go best with the environment.
Usually, for an office environment blue, grey, white, and brighter colors have a good effect on productivity.